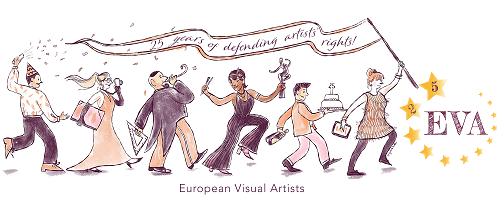 On the 28th of September, European Visual Artists (EVA) is celebrating its 25th anniversary with a day dedicated to the issues at the heart of the association's advocacy activities, aiming to defend artists' rights in Brussels since 1997.
Several high-level speakers will contribute to the day-long conference entitled 'Ensuring a fair future for visual artists' by bringing together the perspectives of visual artists, European institutions, and Collective Management Organisations (CMOs) who are committed day after day to ensuring fair remuneration and respect for artists' rights.
The precarious working and living conditions of visual artists, their right to exhibition remuneration and the implementation of the DSM directive and negotiations between CMOs and platforms are the main topics that will be discussed during the 25th anniversary of EVA, happening at the Maison Européenne des Auteurs et des Autrices (MEDAA).
Anke Schierholz, EVA's President and Head of Legal Department at VG Bild-Kunst, stated, "The visual arts represent 25% of the European cultural industry, which is the seventh largest industry in Europe. The visual arts sector creates 1.9 million jobs and contributes € 138 billion to the pan-European GNP. However, visual artists are expected to work for free, even though they are mostly self-employed. Moreover, the exposure they are promised is not sufficient to pay the bills. We must continuously raise awareness about the precarious conditions of visual artists and what the  CMOs, the European institutions and the other stakeholders can do to ensure that artists are properly remunerated. That is why we are here today, to ensure that artists' future is fair and that they can continue to unleash their creativity."
END
PRESS CONTACT
Carola STREUL, Secretary General
+32 2 2909247